Burnside skatepark is a really unique DIY skatepark project which began in 1990 in Portland, Oregon. It´s probably the oldest D.I.Y. concrete skatepark in the world, celebrating its 26th anniversary this year.
It is an interesting place built without any permission and unpredictable future. Burnside skatepark is a perfect example of how can skateboarders claim a wasteland and find a common language with municipality and others. The Burnside´s long history shows on one hand what is possible to achieve from a bottom-up approach and on the other hand how much effort has to be put into such project – a project that is never really finished. Jocko Weyland nicely describes what is Burnside all about in his book "The Answer is Never: A skateboarders history of the world";
"Burnside's rise from junkie lair to its current glory was due to ten years of sweat, toil and piecemeal ingenuity by local diehards whom Scott led to expand upon Osage Buffalo and Brett Turner's (sic) (should be Taylor)original impetus. Entirely unsubsidized, they laid down concrete and tested it as they went along until they achieved the desired result. It is a grassroots reclamation project that so positively changed the surrounding neighborhood that the city bestowed on Red and the rest a citation for civic improvement. Their successful mission to make something out of nothing has been as influential as any trick or board-design breakthrough. Burnside is an awe-inspiring pilgrimage site because the right fanatics built it for all the right reasons—the opposite of the deplorable travesties that occur when architects completely ignore their constituency to design flawed skateparks, or anything else for that matter. Burnside's atmosphere reflects the authenticity of its builders' impulses: as long as you're riding and not acting like an asshole, you've got a place in the lineup." 
[From The Answer Is Never: A skateboarders history of the world by Jocko Weyland / Grove Press / pgs 314 & 315]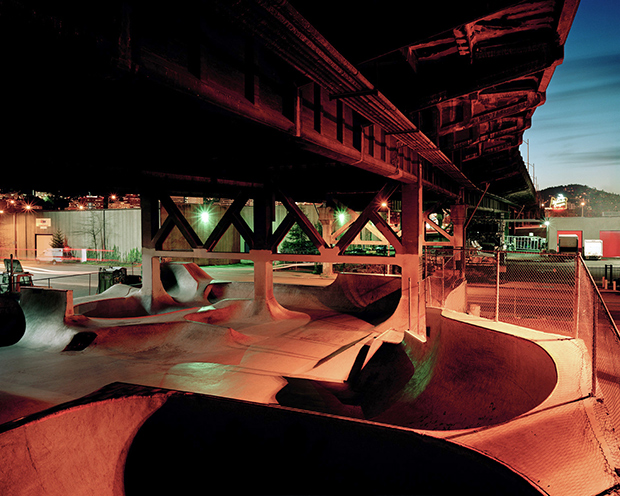 image source: link  [photo by Richard Gilligan]
Though the park has been endorsed by the official resolution in 1992, the city can still reclaim the land, demolish the skatepark and put in a different use whenever that seems a "better" option. Yet this scenario doesn´t seem a probability, as the park has become a landmark and because of skateboarding becoming part of the "urban mainstream".
---
Do you want to know more?
– Documentaries about Burnside skatepark:
– Articles, blog posts and more:
Will the Burnside skatepark survive the growth of New Portland?
Hidden treasure beneath Burnside bridge
Tony Hawk´s Pro Skater 2 Burnside map